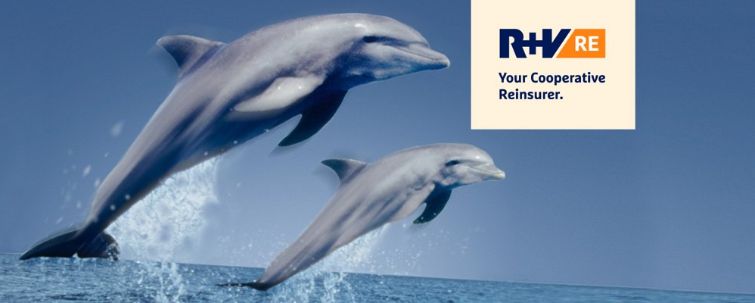 Privacy Statement
Privacy Statement
The Internet technology and electronic data processing can give individuals the impression of losing track where and why their data are stored. In particular in the financial area, trust in the careful and secure handling of customer data is crucial. Therefore, we would like to explain to you as a visitor to our web pages in which way R+V Re ensures the confidential treatment of your personal data and respects your rights of personality. By visiting the R+V Re websites, you are accepting the practices and terms described in this Privacy Policy.
Privacy Statement applies to the R+V Re websites and services offered by R+V Re
This Privacy Statement applies to the websites and the services for which R+V Re is responsible. R+V Re websites may contain links to third party companies for which our Privacy Statement does not apply.
R+V Re guarantees the confidential treatment of your personal data by
obliging our employees to observe secrecy,
ensuring that our security measures are state of the art.
employing an internal data protection officer and the internal audit department to ensure the observance of the "Privacy Statement".
Data transmitted by the browser/Internet technology
Your visit to our websites is recorded. The IP address currently used by your PC, the date and time, the type of browser and the operating system of your PC as well as the webpages at R+V Re websites viewed by you are included in this record. In general, we cannot identify the person using the PC. These data are collected only for data security purposes, any other statistical evaluation takes place in an anonymized form. We do not create or process personal browsing profiles.
Cookies
Cookies are small text files which are stored on the PC of the Internet user. They serve to control the Internet connection during your visit to our websites. At the same time, we receive information from these cookies allowing us to optimise our websites according to our visitors needs. Partially, we use cookies only for the duration of the stay on our websites. The Advertisement Management Partner commissioned by us partially uses cookies which are stored for a longer period. Persistent cookies which collect information on the activities on this website in log files are only used to better understand how the website is used and to solve technical problems. They exclusively serve to analyse the use of the websites. All cookies on our websites contain merely technical information, no personal data.
R+V Re also uses 1x1 pixel tags (also called web beacons), if required, to support online advertising. 1x1 pixel tags are small code strings included in a website which act like cookies. They are also collected in log files, but are not linked to other cookies. Our Advertisement Management Partner DoubleClick provides these pixel tags. DoubleClick uses these files to identify a specific cookie on your web browser which allows us to identify the advertisements which have led you to our website. The data used and collected by the technologies above are anonymous and do not allow personal identification. As far as it is technically feasible to identify a specific person in an individual case (e.g. in cases where you enter personal data such as your e-mail address, your name or address via our websites), this theoretical possibility will not be used. The cookies used by our Advertisement Management Partner neither contain your name, nor your address, telephone number or e-mail address. Further information on DoubleClick and more details how to deactivate such technologies are available under http://emea.doubleclick.com/de/privacy/
Facebook Social Plug-In
Our website uses social plug-ins ("plug-in") provided by the social network facebook.com, operated by Facebook Inc., 1601 S. California Avenue, Palo Alto, CA 94304, USA ("Facebook").
When you visit a page of our website that contains a social plug-in, your browser establishes a direct connection to Facebook servers. Facebook directly transfers the plug-in content to your browser which embeds the latter into the website, enabling Facebook to receive information about your having accessed the respective page of our website.
The embedded plug-ins provide Facebook with the information that you have accessed the corresponding page of our website. For this purpose, the domain of the website (including your IP-address) is transmitted to a server from Facebook in the USA and stored.
Usually, a personal identification is not possible because of the dynamical IP-address you receive from your Internet Provider as a rule. According to statements from Facebook, the data will neither be processed nor forwarded to any third party and will be made anonymous after three months, so that a personal reference will no longer be possible.
However, the above does not apply if you are logged into Facebook. In this case, your visit can be assigned to your Facebook account. If you interact with the plug-ins, for example by clicking "Like", or entering a comment, the corresponding information is transmitted from your browser directly to Facebook and stored by it.
For the information on the purpose and scope of data collection and procession by Facebook, as well as your rights in this respect and settings options for protecting your privacy please visit Facebook's privacy policy.
If you are a Facebook member and do not want Facebook to connect the data concerning your visit to our website with your member data already stored by Facebook, please log off Facebook before entering our website.
Use of your personal data
The personal data you disclose to us through the R+V Re websites, email, or any other electronic communications (e.g. your name and your address or your e-mail address) are only processed for the correspondence with you and only for the purposes for which you have provided us with the data. Moreover, we will use these data for occasional offers to you to inform you about new products or services and other offers which might interest you. Within the scope legally required we will, as a matter or course, ask you for your prior consent. In the case of a promotional address, we will advise you of your legal right of objection. We assure that we will not disclose your personal data to third parties, unless we are under a legal obligation; it is required to enforce or apply the Terms of Use; it is required to protect the rights, property, or safety of R+V Re, its websites, users, or others; or you have given us your prior consent.
If we commission service-providers with the implementation and handling of the data processing, the contracts are governed by the provisions of the German Federal Data Protection Act [Bundesdatenschutzgesetz].
Your Rights
You are entitled to claim disclosure of the personal data stored about you and correction of wrong data, blocking and deletion.
Secure Communication on the Internet
The Internet is generally considered as an insecure medium. In contrast e.g. to telephone lines, the transmission of data on the Internet may be more easily wiretaped, recorded and even be changed by illegitimate third parties. Therefore, while we strive to use commercially acceptable means to protect your personal information, we cannot guarantee its absolute security. To help safeguard the confidentiality of the communication, we use a so-called SSL encryption. According to the state of the art, the 128-bit encryption enabled by this is to be considered as secure. All browsers of the most recent generation achieve this security level. If required, you should update the browser used on your PC.
Childrens Policy
Consistent with the US Childrens Online Privacy Protection Act, we do not knowingly request or accept information submitted through any R+V Re website by any visitor under 13 years of age. If we become aware that an individual under 13 has provided information to us through any R+V Re website, we will not use or disclose that individuals information for any purpose unless required to do so by law.
Terms of Use
If you choose to visit the R+V Re websites, your visit and any dispute over privacy is subject to this Privacy Policy and our Terms of Use, including limitations on damages, application of the law of the Federal Republic of Germany, notwithstanding any conflicts of law principles, and resolution of any disputes in a court in Wiesbaden, Germany.
Updates of this Privacy Statement
If R+V Re introduces new products or services, changes the Internet processes or if the Internet and EDP security technology is developed further, this "Privacy Statement" has to be updated. We thus reserve the right to alter and amend the statement as required. We will publish any alterations and amendments on this site. The current version is dated 19 December 2011.
Any further questions?
If you have any further questions, please contact the data protection officer of R+V Insurance Group under the following address:
R+V Versicherung AG
Datenschutzbeauftragter
Raiffeisenplatz 1
D-65189 Wiesbaden
Phone: +49 (0)800 533-1112
Fax: +49 (0)611 533-4500
Email: datenschutz@ruv.de